Enquiry Call : +91 9987-168-169
+91 9821-994-994
Trade Like A Professional
Top & Bottom Detection
(Our Software sense top & Bottom)
Reversals are defined as a change in the overall trend of price. When an uptrend switches to a downtrend, a Top Signal generates. When a downtrend switches to an uptrend, a Bottom Signal generates. This function help Trader to book Profit in Long & Short Position, and can get perfect entry in Bottom & exit on Tops, This signal is useful for Positional Trade Also..
Popup Alert on PC & Mobile available.
This Function is available for METATRADER ( MT4 )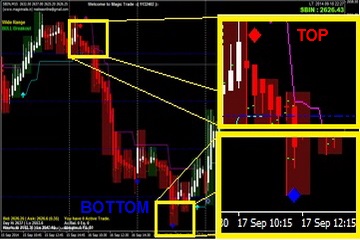 Top Bottom Detection

&

Reversal detection

Focus on our Magic Trade Top Bottom System

Top Bottom System
When Top Bottom is found at the peaks of an upward trend and is a clear signal that the preceding upward trend is weakening and that buyers are losing interest. Upon completion of this pattern, the trend is considered to be reversed and the security is expected to move lower.

Top Bottom in Markets
This Top Bottom is a clear illustration of a battle between buyers and sellers. The buyers are attempting to push the security but are facing resistance, which prevents the continuation of the upward trend. After this goes on a couple of times, the buyers in the market start to give up or dry up, and the sellers start to take a stranglehold of the security, sending it down into a new downtrend.

(FAQ) -

Frequently asked questions for Top Bottom Detection.
Q. What does the Top Bottom system do?
1. This function help to book Profit in Long & Short. get perfect entry in Bottom & exit in Tops, Positional Also.,
This Top Bottom signal is very sensitive for reversal point of view.

Q. how can we trade on Top Bottom signal?
You can use this Top Bottom signal as a profit booking and top ans bottom fishing eg:
1. Normally If we make a buy position then we have to wait for sell signal or target based take profit to exit, butwe can earn more with this signal
2. If we make a buy position and it goes up then when ever reversal occurs our 1st top signal indicate that it will reverse, at this point
we will book some profit (50%) and if 2nd top signal generated then we have to exit (100%)
3. We can also use this as a Top reversal Risk Trade, when 3rd top generated then we can take a chance for short position with Stoploss Nearest high level.
We should keep Stoploss new high mean eg. if high is 1230 then Stoploss will be 1231